Shared Education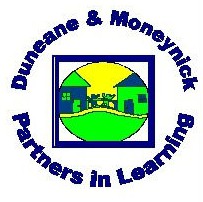 Our History
Duneane Primary has been involved in shared education for over ten years. Our partner school is Moneynick Primary School, just one mile away. Our schools became an informal confederation during the Primary Integrating, Enriching Education Project. We are currently part of the Shared Education Signature Project.
On 23rd March, 2016 it was announced that our Partnership would progress to the Planning stage of the Northern Ireland Executive's Shared Campus Programme.
Shared Classes
Our Shared Classes happen regularly throughout the school year on Monday's and Tuesday's in both Duneane P.S. and Moneynick P.S.
All pupils are involved in the Shared Classes and a range of subjects are covered including Mutual Understanding, Numeracy, Literacy and Physical Education.
Our Future
Work continues to be ongoing in the background for the planning and building of a Shared Campus. This new building will be situated on a new site within the locality of both schools. It will have separate classrooms for each school and shared facilities that will include a Hall, staff room and playground.
Communique Regarding Shared Campus
Communication Information: Governors, Staff, Parents/Guardians, Pupils – 17th December 2019
Further to our Communiqué of the 26th December 2018, 2 sites were being considered within the locality. In progressing two sites, Planners have been consulted and investigation works have been completed to assess ground conditions, ecology, archaeology, and topography with regard to the construction of a school building. The outcome of these investigations will assist in the identification of a preferred site which will be considered in theBusiness Case for funding.
The approval of the Technical and Feasibility Study part of the Business Case has been received and the remainder, for further approval by the Department of Education, will begin. Thetendering process for Design Team Consultants has begun.
The two schools continue the development of their shared work through their curriculum.
The Steering Group will continue to meet on a regular basis and further updates will be provided as the Business Case finalises.
Shared Classes
Our Shared Classes this term will focus on Play Based Learning for our Reception and Primary 1 classes and Problem Solving using Numicon and IZAK9 for our Primary 2 - 7 classes. Mrs. Anderson will be delivering the Shared Classes in Duneane P.S. on Monday's while Mrs. McConway will be delivering the Shared Classes in Moneynick P.S. on Tuesday's.
Shared Classes for this term will run from Monday 20th January - Tuesday 3rd March.
Duneane Primary School, 166 Church Rd, Toomebridge, Antrim BT41 3RD Phone: 028 7965 0854